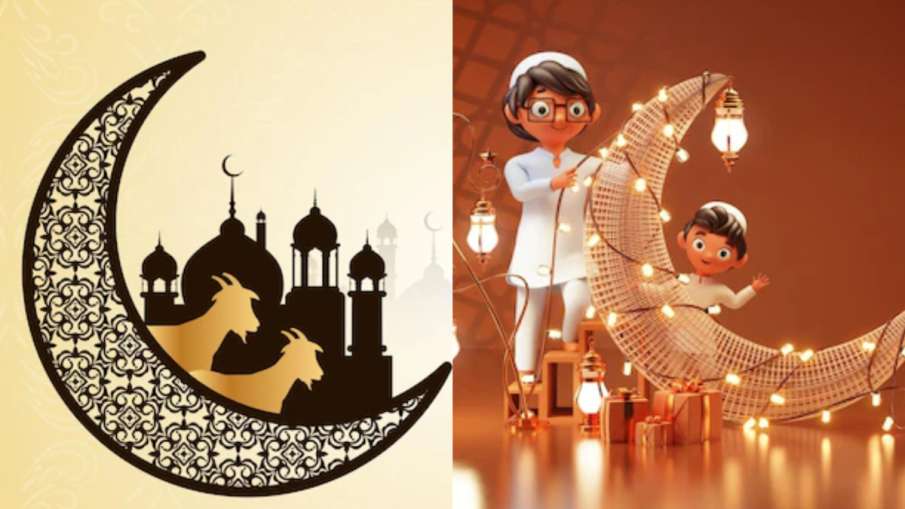 Bakrid 2022: The day of Eid-ul-Zuha or Bakrid is the day of Farz-e-Qurban. By the way, everyone would know that goats are sacrificed on the day of Bakrid. In Muslim community the goat is reared and looked after according to its status and when it grows up it is sacrificed to Allah on the day of Bakrid which is known as Farz-e-Qurban. Is. This time Bakrid is falling on Sunday, July 10. On the day of Bakrid, not only goats but some buffaloes and some camels are also sacrificed. In such a situation, let us know why goat is sacrificed on the day of Bakrid and what is the truth behind it.
Know why goat is sacrificed?
A historical fact is hidden behind the sacrifice of a goat, in which there is such a story of sacrifice, which makes the heart tremble only after hearing it. Hazrat Ibrahim had agreed to sacrifice his son on the orders of Allah. Hazrat Ibrahim felt that his son was most dear to him, so he accepted to sacrifice his son.
Hazrat Ibrahim felt that his feelings might come in the way while making the sacrifice, so he blindfolded himself. When he removed the bandage after completing his work, he saw his son standing in front of him alive. The slaughtered lamb was lying on the altar, since then it is customary to sacrifice goats and lambs on this occasion.
Since then this festival is celebrated in memory of this. Hazrat Ibrahim is known as the Prophet who is closest to Allah. The example of sacrifice and sacrifice he presented to the world is unparalleled. According to the belief of Islam, Allah wanted to test Hazrat Ibrahim and that is why he asked him to sacrifice his dearest thing. In some places people also sacrifice camels. Since then the tradition of offering sacrifice is going on, which is known to the world as Bakrid Eid-ul-Zuha.
Truth of Bakrid
Performing Hajj is considered the most important part of life in Islam. When they return from Hajj, then sacrificing their loved ones on Bakrid is also an essential part of Islamic religion for which a goat is reared. He is taken care of day and night. In such a situation, it is common for feelings to be associated with that goat. After some time that goat is sacrificed on the day of Bakrid.
This is how Bakrid is celebrated
The animal to be sacrificed is looked after and reared.

After sacrificing a goat, one-third of its meat is given to God, one-third to family members and friends, and one-third to the poor.

New clothes are worn on this day.

First of all, Eid Salat is offered in the Idgah.

Gifts are given on this day, especially the poor are taken care of, they are given food to eat and clothes to wear.

Idi is given to children and little ones.

Eid prayer prayers are performed.

Apart from goats, cows, goats, buffaloes and camels are sacrificed on this day.
Disclaimer – This article is based on general public information and proverbs. India TV does not confirm its veracity.
read this also –
Som Pradosh Vrat 2022: 4 auspicious coincidences are being made on the day of Som Pradosh fast, know auspicious time, worship method and mantra
Budh Gochar 2022 in July: This month, Mercury will change its zodiac three times, these zodiac signs will benefit
Raksha Bandhan 2022: On the day of Rakshabandhan, do not tie Rakhi to your brother at this time, otherwise it may be a bad omen.
Chaturmas 2022: Chaturmas is starting from July 10, these 3 zodiac signs will have to be special for four months