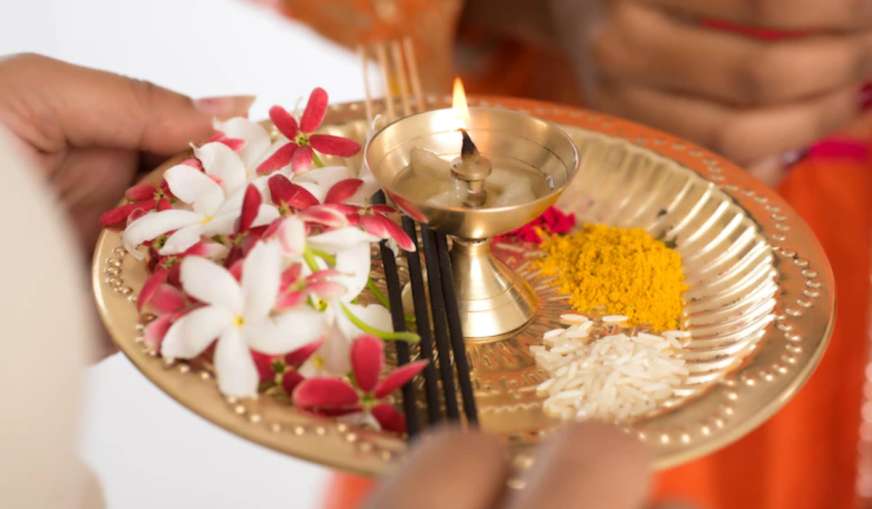 Highlights
Chant these 4 mantras everyday in the evening
will end all sorrows
Evening Puja: According to Hindu scriptures, worshiping by lighting a lamp in front of God in the morning and evening is considered very sacred. It is believed that this increases the flow of positive energy in life and brings happiness and prosperity. Along with worship, chanting of mantras Chanting is also very beneficial. In Hinduism, worship is done not only in the morning but also in the evening. Similarly, according to astrology, it is believed that chanting these 4 mantras at the time of evening worship increases your happiness, good fortune and wealth…
When to worship in the evening?
According to astrology, the effect of Suri powers is more in the evening. In such a way, the demonic effect can be reduced by worshiping in the evening. Whereas, morning worship is done to please God. The right time should be after sunset and before dark. By doing this, God resides in your house and the grace of Mother Lakshmi remains on you.
Shami Patra: It is very auspicious to offer Shami letter on Shivling in Sawan, know the right method of worship
Shubham Karoti Kalyanam Arogyam wealth.

Shatrubuddhivinashaya Deepkay Namostute॥
The meaning of this mantra is – I bow to the flame of such a lamp which does auspiciousness, brings welfare, keeps healthy, provides wealth and destroys enemy intelligence.
Antajyotirbahirjyotih Pratyagjyotih Paratparah.
Jyotirjyoti: Swayamjyotiratmajyoti: Shivaomsmyhamm
The meaning of this mantra is that the Divine Light which is within and outside me and the light which is spread in the world is one owner. The source of all the beams of light is that Paramatma, Shiva. I take an oath to light this lamp daily.
Vastu Tips for Money: According to astrology, by taking these measures, the financial condition will be strong, there will be no shortage of money
Deepo Jyoti Param Brahma Deepo Jyotirjanardan:.
Deepo Hartu Mein Papam Sandhyadeep Namostute॥
The meaning of this mantra is that – The flame of the lamp that burns in the evening is dedicated to that Supreme Brahman and Satpurushas and is also dedicated to Lord Vishnu. May this lamp destroy my sin, O evening lamp, I bow to you.
Insect: Patanga: Mashka: Cha tree:
These nivasanti souls are burnt.
Drishtva pradeepam na cha birth bhaja:
Sukhinah Bhavantu Svapachaah Hi Viprah.
The meaning of this mantra is that – With the lighting of this mantra, we pray that whosoever is seeing this lamp, whether it is insects, moths, birds, trees and plants, can be found on this earth. living beings or in water. Whether it is a human being or any other creature, all his sins are destroyed and at the same time he gets freedom from the cycle of birth and death. May that soul always get happiness.