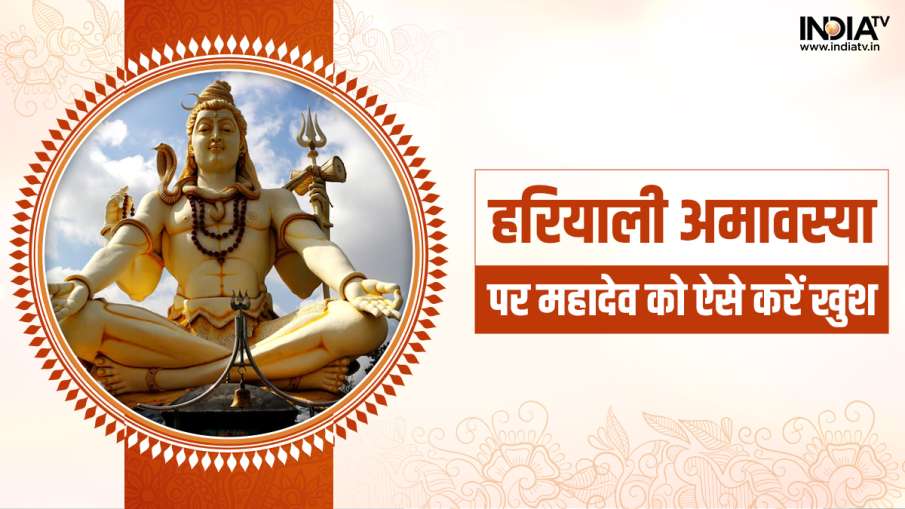 Highlights
Worship Lord Shiva on this day
One gets blessings by reciting worship throughout the day
Hariyali Amavasya 2022: The month of Sawan is considered to be the month of Lord Shiva. Today is Hariyali Amavasya and on this day there is a special law to worship Shiva in the scriptures. Amavasya on the day of bathing-donation of Shradh for Krishna Paksha of Sawan month is also known as Amavasya. Especially in North India, this Amavasya has a lot of importance. Worshiping Shiva today brings love, money and success. Know from Acharya Indu Prakash how to worship Lord Shiva on this day.
Hariyali Amavasya auspicious time
Today is Hariyali Amavasya. Its auspicious date has started from 09.11 o'clock on 27th July and will remain till 11.24 o'clock in the night of today i.e. 28th July.
worship of shiva
On the day of Hariyali Amavasya, devotees wake up early to take bath and worship Lord Shiva. Also pray for his blessings. Shiva Bhakti is associated with wealth and prosperity. On the day of Hariyali Amavasya, devotees chant the mantras of Lord Shiva and sing his hymns. Special darshan and rituals take place in the temples of Lord Shiva, devotees also observe fast. Lord Shiva is very pleased when he is worshiped from morning till evening on this day and fulfills every wish of his devotees.
Hariyali Amavasya 2022: Raja Yoga is being done on Hariyali Amavasya, get rid of Pitra Dosh, do these measures for happiness and prosperity and money gain
Bhole Baba will solve all the troubles
If you are caught in any dispute, then offer jaggery to Shiva, it will benefit you. To increase your might, anoint Lord Shiva with curd. To increase wealth and wealth, anoint Lord Shiva with sugarcane juice. To enhance your personality, do abhishek to Lord Shiva with raw milk and water. To avoid land dispute, offer Kheer to Lord Shiva. To maintain your supremacy, offer Bilva leaves on Shivling. To get rid of obstacles coming in the works, also do Abhishek with raw milk to Shiva. Anoint Lord Shiva with Panchamrit for protection from diseases and enemies. Offer red colored flowers to Lord Shiva for progress in the spiritual field. Offer coconut water to Lord Shiva to remove the obstacles in marriage. To maintain economic progress, offer saffron milk on Lord Shiva. By performing Rudrabhishek Puja on the day of Hariyali Amavasya, evil spirits and negativity can be warded off.
Hariyali Teej 2022: Hariyali Teej is on 31st July, this time very auspicious yoga is being made
worship peepal tree
There is greenery all around in the month of Sawan. There is also a tradition of celebrating Hariyali Amavasya in the Puranas as a form of environmental protection. Trees are worshiped as God in our culture. It is said that some deity resides in every tree. For example, the three superpowers Brahma, Vishnu and Shiva are believed to reside in the Peepal tree. Worshiping Peepal on this day to please Shiva, the ancestors get peace and their blessings remain on you. Along with this, the defects of Shani, Rahu and Ketu are also pacified by this remedy.
Swapna Shastra: Is the lizard seen again and again in dreams? these are bad signs
donate to charity
Today, by making kheer-puri, dung cakes, in the local language, burn cow dung cakes and offer the names of ancestors on it and feed the rest of the food to the cow. It is considered good to donate sugar, jaggery, rice, oil, wheat, salt and black clothes on this day, so donate according to your faith. Otherwise, give food to a Brahmin. This will make Shiva happy and all your wishes will be fulfilled.
(Disclaimer: The views expressed in this article are those of the author. India TV does not confirm its veracity.)
Latest Lifestyle News