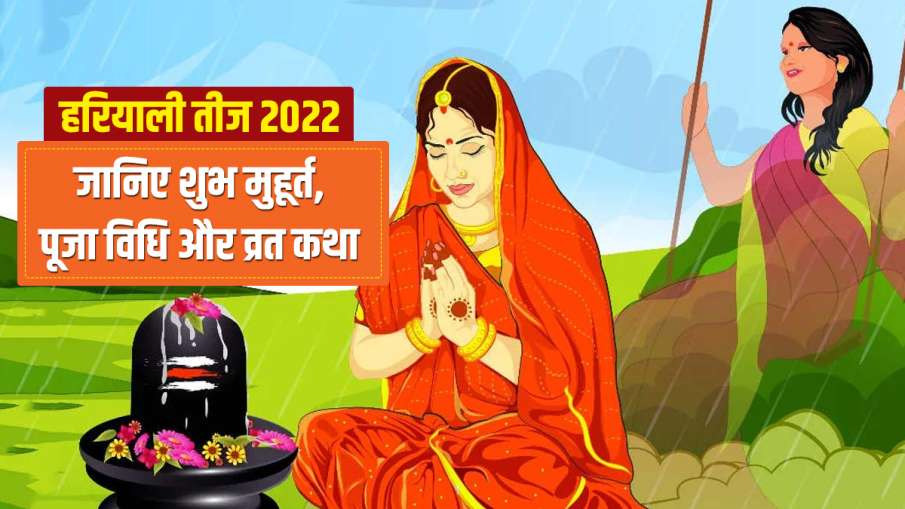 Highlights
This time the festival of Hariyali Teej will be celebrated on Sunday, 31 July 2022.
This time Ravi Yoga is being formed on Hariyali Teej.
This fast is very important for married women.
Hariyali Teej 2022: Hariyali Teej is celebrated every year on Tritiya Tithi of Shravan Shukla Paksha. It is said that Hariyali Teej marks the arrival of one festival after another. After this festival, almost all the big festivals of the country start coming. It is also known as Madhushrava Tritiya or Choti Teej. According to Acharya Indu Prakash, only after Hariyali Teej, big festivals like Nag Panchami, Rakshabandhan, Janmashtami and Navratri come, due to which four moons become visible in the shade of India and happiness is seen everywhere. This fast is very important for married women. On this day, married women offer prayers to Lord Shankar and Maa Parvati for the long life and good health of their husbands. On this day she observes a Nirjala fast. Let us know about the auspicious time of Hariyali Teej, worship method, and fasting story.
Hariyali Teej auspicious time
Hariyali Teej Tritiya date begins: 31st July – Starting at 02:59 am

Tritiya end date: 01 August – 04:18 in the morning
When is Hariyali Teej?
According to the Hindu calendar, the festival of Hariyali Teej will be celebrated on Sunday, 31 July 2022.
Special yoga is being done on Hariyali Teej
This time Ravi Yoga is being formed on Hariyali Teej. Ravi Yoga is considered very auspicious for completing any auspicious work. According to the beliefs, offering Arghya to Lord Surya on Ravi Yoga increases the auspicious effects in life. On the day of Hariyali Teej, Ravi Yoga will start from 2:20 pm and will continue till 6:04 am on August 1.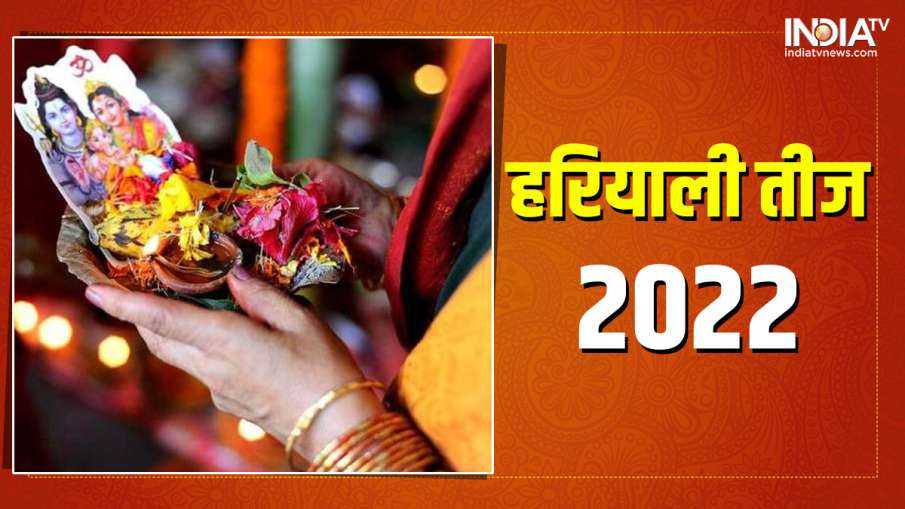 Hariyali Teej 2022
Hariyali Teej Puja Method
On this day, women should wake up in Brahma Muhurta and take bath after retiring from all work.

After that, wearing clean clothes, meditating on Lord Shiva and Mother Parvati, take a vow of fasting.

On this day, idols of Lord Shankar and Mother Parvati are worshiped by making sand idols, and on a chowki, the idols of Ganesh, Parvati and their friends are made by mixing Ganges water in pure soil at a post.

Offer makeup to the mother. After this, Lord Shiva should invoke Mother Parvati. Worship Goddess Parvati, Shiva and Ganesha with them. Offer clothes to Shiva and listen to the story of Hariyali Teej.

One can also chant the mantra 'Umamaheshwarsayujya Siddhaye Haritalika Vratamahan Karishye'.

Keep in mind that while making the idol, keep remembering God and keep worshiping.
When you are worshiping Goddess Parvati, then chant this mantra.
Om Umayai Namah, Om Parvatyai Namah, Om Jagaddhatrayai Namah, Om Jagatpratishthaya Namah, Om Shantirupinyai Namah, Om Shivayai Namah.
Chant these mantras while worshiping Lord Shiva
Om Harai Namah, Om Maheshwaraya Namah, Om Shambhwe Namah, Om Shoolpanaye Namah, Om Pinakavrushe Namah, Om Shivaay Namah, Om Pashupataye Namah, Om Mahadevaya Namah:
Hariyali Teej Vrat Story
Hariyali Teej festival is celebrated to commemorate the reunion of Lord Shiva and Mother Parvati. According to mythology, Goddess Parvati did severe penance to get Lord Shiva as her husband. Due to this severe penance, Goddess Parvati got Lord Shiva as her husband. According to the legend, Mata Gauri was reborn as Parvati in the Himalayas. Mother Parvati wanted to get Shiva as a groom since childhood. For this he did severe penance. One day Narad ji arrived and told Himalaya that Lord Vishnu wanted to marry Parvati after being pleased with her tenacity. The Himalayas were very happy to hear this. On the other hand Narad Muni reached Vishnuji and said that Himalaya has decided to get his daughter Parvati married to you. Vishnuji also agreed to this.
Narada then reached Mother Parvati and told that father Himalaya had fixed her marriage with Vishnu. Hearing this, Parvati was very disappointed and went to a secluded place with her sakhis, saving her eyes from her father.
After reaching the dense and deserted forest, Mata Parvati once again started penance. He constructed Shivling out of sand and started worshiping while fasting. Lord Shiva was pleased with this penance and promised to fulfill his wish. Meanwhile, Parvati's father Parvatraj Himalaya also reached there. Knowing the truth, he agreed to get Parvati married to Lord Shiva.
Shiva tells in this story that later he got married with Parvati by law. Shiva says, 'O Parvati! Due to the strict fast that you had taken, we could get married. I give the desired result to the woman who performs this fast with sincerity.'
Disclaimer: The information given here is based on religious beliefs and folk beliefs. There is no scientific evidence for this. , India TV does not give proof of the veracity of a single thing.
read this also –
Vastu Shastra: Putting a picture of a parrot in the house will improve the future of the child, know the rules of Vastu
Vastu Shastra: Do not put a picture of Mahadev's fierce form in the house even after forgetting, trouble comes in every work
Chanakya Niti: Husband and wife should do these 4 things for a happy married life, love will increase among themselves
Latest Lifestyle News