Hina Khan Gets Emotional: Actress Hina Khan always remains a part of the headlines. Hina is known for her glamorous look with her acting. Hina remains in the discussion about her personal life. She keeps updating fans about her personal life. On Sunday, Hina celebrated Eid with her family. There is no such festival when Hina does not miss her father. Even on the occasion of Eid, Hina became emotional after remembering her father. He shared such a picture on social media which has brought tears to everyone's eyes.
Hina's father died of cardiac arrest on April 20 last year. Hina continues to support her mother after her father's death. She is often seen taking care of her mother. On the occasion of Eid, Hina accompanied her mother to her grave. Whose picture he shared.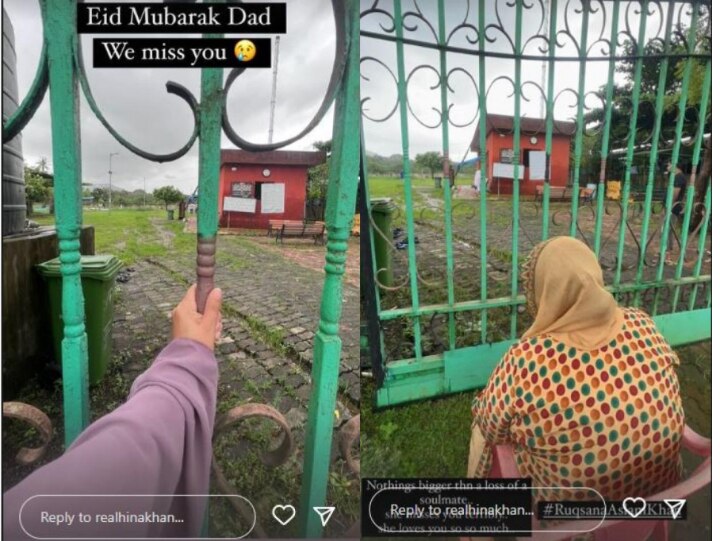 Hina Khan gets emotional
Sharing the picture of father's graveyard, Hina wrote – Eid Mubarak Dad. We miss you very much. Also posted a crying emoji. After this, while sharing the picture of his mother sitting, he wrote – No one hurts more than losing his soulmate. She misses you very much… She loves you very much. Seeing these pictures of Hina, the fans must have been in tears.
shared father's photo
While sharing a picture of father on the occasion of Eid, Hina wrote – Eid Mubarak Daddy. Together with the song Chitti Na Koi Sandesh was planted.
Talking about the workfront, Hina Khan has many projects. She is busy with work these days. She keeps sharing pictures of her glamorous photoshoot every day.
Also read: Ranbir Kapoor: Why did Brahmastra take 5 years? Ranbir Kapoor has now broken his silence
Get ready to see Alia Bhatt and Ranbir Kapoor romancing onscreen, this date is going to be painted in 'Saffron' color