Kareena Kapoor Third Pregnancy : Bollywood actress Kareena Kapoor Khan is always in the discussion for some reason or the other, but these days she is in discussion for a very interesting reason. Kareena Kapoor is dominated on social media regarding her third pregnancy, although Kareena has shared a post telling the truth of the third pregnancy and has put a complete stop to everyone's speculations. But telling the truth of these speculations, Kareena pulled up her husband Saif Ali Khan. This post of Kareena is becoming very viral on social media. Let us tell you what the whole match is?
The discussion started with this photo…
Actually, a photo of Kareena went viral in the past, in which Saif and one of his friends were seen. In this photo, Kareena Kapoor's stomach was visible separately, after which people started speculating that Kareena is going to become a mother for the third time, although Kareena shared the post on her official Instagram and made it clear that she was pregnant. The news is false. In her post, Kareena also said something for Saif that you will not be able to stop laughing after reading it.
'Saif has already contributed a lot…'
In her post, Kareena wrote, 'This is pasta and wine guys…keep calm, I am not pregnant. Uffffp!!! Saif says that he has already contributed a lot to the population of the country. Enjoy. Along with this, Kareena has also made a laughing emoji.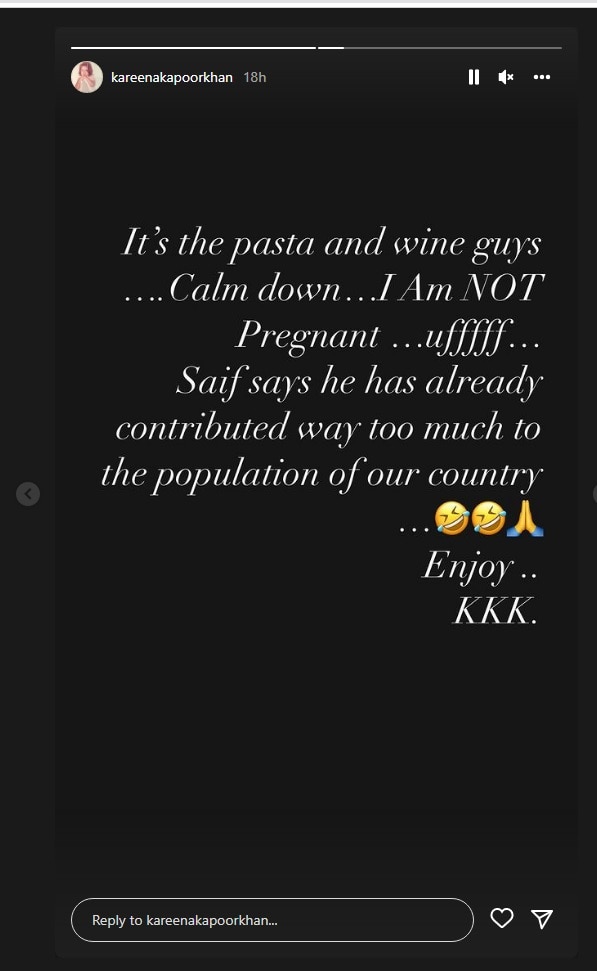 Let us tell you that Kareena Kapoor has given birth to a son some time back, whose name is Jeh. At the same time, Kareena and Saif have two children, Taimur Ali Khan and Jeh. Whereas Saif has four children Sara Ali Khan and Ibrahim Ali Khan who are the children of Saif and his ex-wife Amrita Singh.
Money Laundering Case: ED files case against PADMAN producer Prerna Arora, a case of fraud of 31 crores