Lalit Modi Nine Years Old Tweet: Bollywood actress Sushmita Sen remains a part of the headlines. On Thursday, businessman Lalit Modi has announced a relationship with Sushmita. Fans are shocked to hear about the relationship between Sushmita and Lalit Modi. Lalit Modi has shared some romantic pictures with Sushmita. He has made an announcement by sharing pictures from his old meeting with the actress till now. Pictures of Lalit Modi and Sushmita Sen are becoming very viral on social media. Meanwhile, Lalit Modi's 9-year-old tweet is going viral, which he did to seek a reply from Sushmita.
In 2013, Lalit Modi tagged Sushmita Sen in a tweet and asked her to reply to the message. At that time the message was very much in trend. People used to be less active on social media. Lalit Modi had tweeted- 'Sushmita Sen, reply to my SMS'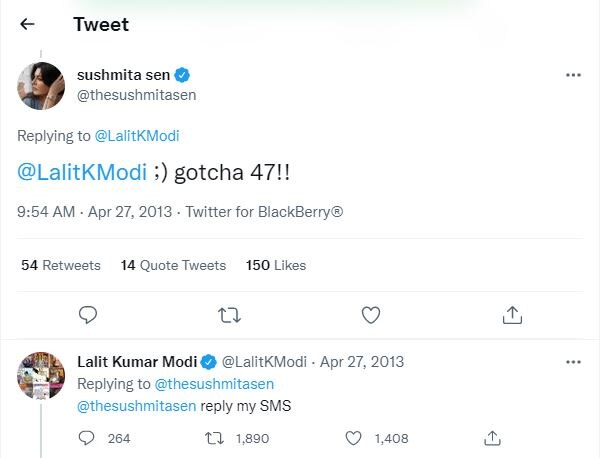 Sushmita had replied
Sushmita Sen also responded to this tweet of Lalit Modi. The tweet of both was going viral. Sushmita wrote in response – gotcha 47!!
share romantic photos
Lalit Modi has shared cozy pictures with Sushmita. At the same time, the actress has not made any mention of it on her social media yet. Lalit Modi tweeted the photos and wrote- 'Maldives with family, are back in London after finishing Sardinia tour. A fresh start with my better half Sushmita Sen..Finally a new life. Today I am over the moon.
Let us tell you that Sushmita Sen had a breakup with Rohman Shawl 6 months ago. Sushmita had announced her breakup on social media and said that we will always be good friends.
Also read: After the announcement of dating with Sushmita Sen, Lalit Modi did this work immediately, see
Popular actor Pranav Kumar is ready to enter Radha Mohan in Pyar Ka Pehla Naam, know what is its story