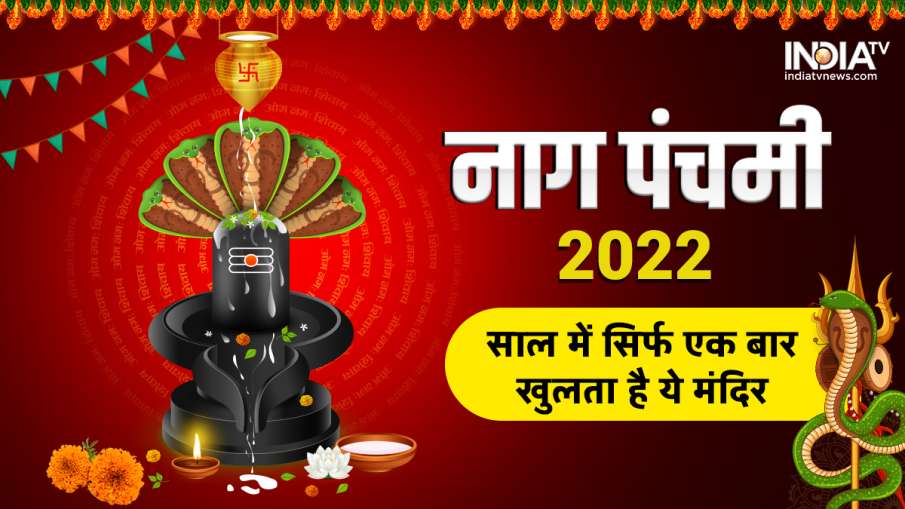 Highlights
Nag Panchami is celebrated on the fifth day of Shukla of Shravan month.
This time the festival of Nagpanchami will be celebrated on 2nd August.
Know about Nagchandreshwar Temple.
Nag Panchami 2022: According to the Hindu calendar, Nag Panchami is celebrated on the fifth day of Shukla in the month of Shravan. This time the festival of Nagpanchami will be celebrated on 2nd August. The worship of serpents has a lot of importance in the Sanatan tradition. According to the beliefs, serpents are worshiped on this day. Also milk is offered. There is a lot of crowd in the temples on the day of Nagpanchami. But today we are going to tell you about a temple whose doors are opened for devotees only once in a year on Nagpanchami which remains open continuously for 24 hours. Lakhs of devotees come to visit this temple. This temple is one of the twelve Jyotirlingas Lord Nagchandreshwar Temple situated on the summit of Mahakaleshwar. This temple is located in Ujjain.
In this temple Lord Shiva, Mata Parvati and her sons Ganeshji and Nag are seated on this throne. It is believed that there is no such temple anywhere else in the world. This temple has a legend of its own. It is said that by visiting Nagchandreshwar temple on this day, Kaal Sarp Dosh gets removed. In such a situation, let us know about the mythology of this temple and its fame.
mythology
According to mythology, Takshak, the king of snakes, received the boon of immortality by doing penance to Lord Bholenath. It is believed that Takshak Nag is seated in this temple. He is wrapped around the neck, hands and feet of Lord Shiva in the form of a serpent. On which Shiva and his family are seated. This temple is built in the upper cell of the Mahakal temple of Ujjain, which is opened only once a year on the day of Nag Panchami.
Kaal Sarp Dosh is removed by visiting this temple
On the day of Nagpanchami, people start long queues to visit the Nagchandreshwar temple. According to beliefs, on this day, Nag Takshak himself comes to the temple and removes the Kaal Sarp Dosh of the visitor. It is said that by crossing the flowers and bilvapatras offered to Lord Bholenath installed in this temple, a person gets blamed, but this defect is erased by seeing Lord Nagchandreshwar. Panchkroshi travelers also get strength from God by offering coconut and after the completion of the journey, horses made of clay are offered here.
Disclaimer: The information given here is based on religious beliefs and folk beliefs. There is no scientific evidence for this. India TV does not give proof of the veracity of a single thing.
read this also –
Sawan Pradosh Vrat 2022: Sawan first Pradosh fast tomorrow, know auspicious time, worship method and importance
Sawan Somvar 2022: Consume these special drinks during the Monday fast of Sawan, you will feel energy throughout the day
Sawan 2022: There are countless benefits of reading Shiv Chalisa, Shiva's aarti, can be proven by reading 40 times, read here
Latest Lifestyle News