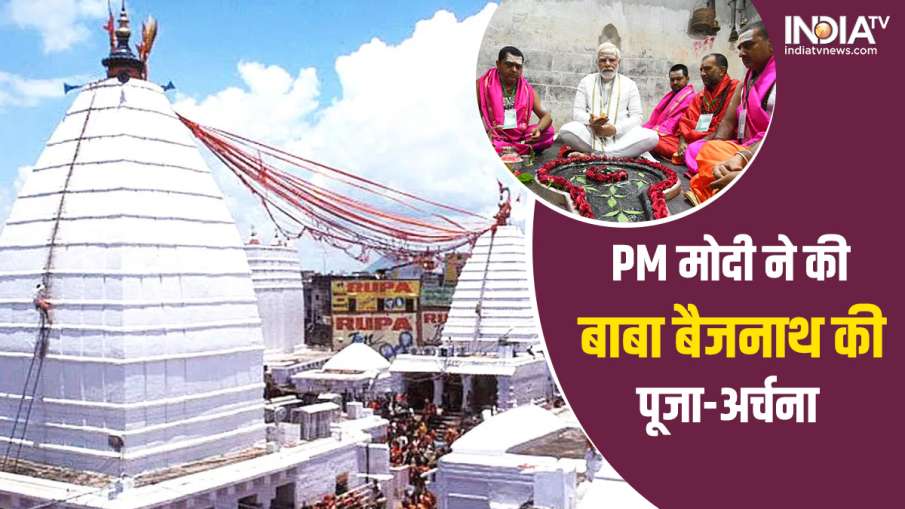 Highlights
There is a mythological story behind the name Ravaneshwar.
There is no trident in this Jyotirlinga but Panchshul.
Here Jalabhishek has special significance in Sawan.
PM Modi In Deoghar: Prime Minister Narendra Modi today inaugurated the Deoghar airport after reaching the holy land of Baba Baidyanath in Deoghar. Because of this, devotees will reach there even sooner. Along with this, he reached Baba Baidyanath Dham temple today and offered prayers. During this, he performed Jalabhishek of Lord Shiva. He anointed the Jyotirlinga with water, milk, Panchamrita brought from the Ganges and then offered flowers, Belpatra, Madar, Dhatura amidst chanting of mantras, then performed aarti and prayers. Let us tell you that the biggest Shravani fair is held in this temple as well as its connection with Ravana has also been there. This is the reason why this temple is also called Ravanaeshwar Dham and Ravanaeshwar Jyotirlinga. After all, why the name of this Dham is Ravneshwar Pada, today we will tell you through this article.
The biggest Shravani fair is held here:
There are a total of 12 Jyotirlingas in the country, Baidyanath Dham is one of them. Baba Baidyanath Dham is considered to be the ninth Jyotirlinga among the twelve Jyotirlingas. Deoghar is the only place in the Dwadash Jyotirling where Shiva and Shakti sit together. Devotees from abroad reach here with their wishes. The world's largest Shravani Mela is held in this worldwide spiritual centre. The month-long world famous Shravani fair is also being started in Deoghar from 14th July. This year, the entire area including Deoghar has been decorated in a grand manner for the many historic beginnings to be held simultaneously. Shravani fair is considered to be the biggest socio-religious event of Jharkhand, every year in the month of Sawan, more than 35 lakh devotees from all over the country and abroad gather.
Why did the name Ravanasvara come?
Shiva devotee Ravana wanted Shiva to leave Kailash and stay in Lanka. For this, he did severe penance in Kailash and started offering his heads one by one on the Shivling. As he went to cut off his tenth head, Lord Shiva appeared and asked him to ask for a boon. Ravana told Shiva his desire to go to Lanka. Shiva fulfilled the wish, as well as placed a condition. According to this, Ravana did not have to keep Shivling anywhere in the middle. But after coming near Deoghar, Ravana put down the Shivling and it got frozen there. That is why this pilgrimage is also called Ravanaeshwar Dham.
Beliefs of Panchashul:
This Jyotirlinga does not have Trishul, but Panchshul. There are different beliefs regarding this. Some people believe that Panchshul is a symbol of destroying the five vices of the human body, Kama, greed and attachment, while some people consider the Panchshul to represent the human body made of the five elements Kshiti, Jal, Pavak, Gagan, Sameer.
read this also –
Guru Purnima 2022: Combination of 9 auspicious yogas is being made on Guru Purnima, take special measures for progress
Chanakya Niti: People who do not do these things become ruined, be alert in time