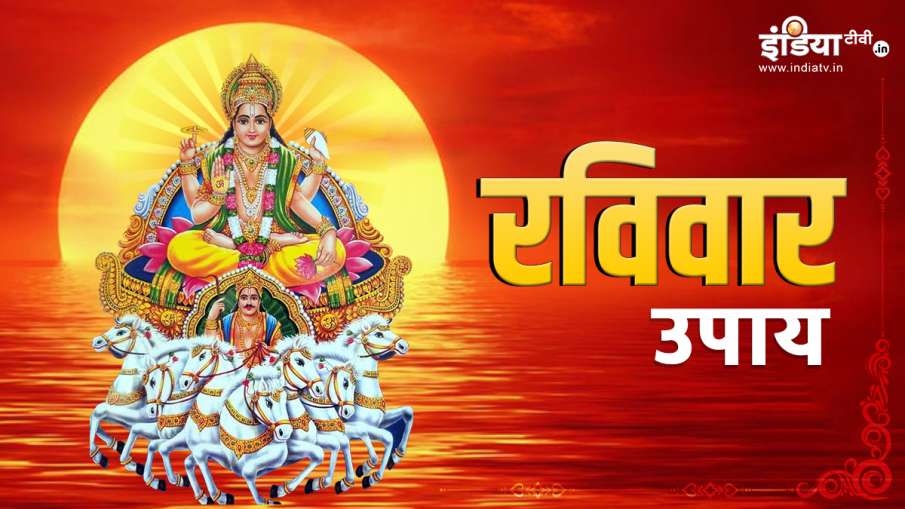 Highlights
Chant Ketu's Mool Mantra on this day
Worship Mata Lakshmi on this day
Ravivar ke Upay: Today is Tritiya Tithi and Sunday of Shravan Shukla Paksha. Tritiya Tithi will cross the whole day of today and will remain till 4:19 am tomorrow morning. Vytipat yoga will remain till 7: 1 minute in the evening. Doing any work in this yoga leads to loss and can also lead to heavy losses. Even if you want to do good to someone during this yoga, it will be bad for him. Along with this, Magha Nakshatra will remain till 2.20 pm today, after that Poorva Phalguni Nakshatra will take place.
Along with this, Magha Nakshatra will remain till 2.20 pm today, after that Poorva Phalguni Nakshatra will take place. Purva Phalguni is the eleventh constellation out of the 27 constellations located in the sky. The symbol of this constellation is considered to be the front two legs of the cot, that is, the side on which the head is located, that part is the symbol of Purva Phalguni Nakshatra. The zodiac of this constellation is Leo, while its lord is Shukracharya. Also Dhaka, also known as Palash, is associated with Purva Phalguni Nakshatra. In whichever Nakshatra a person was born, the trees, plants or herbs related to that Nakshatra should not be used by that person. Those people who were born in Poorva Phalguni Nakshatra should not harm the Dhak or Palash tree in any way and also should not use its wood, flowers or any other thing made from it. Instead people born in Poorva Phalguni Nakshatra should today salute the Dhak or Palash tree and worship it.
By doing these measures, you can get the desired result
Vastu tips: Place a clock in this direction of the house, the door of your luck will open
If there are differences between the members of your family, due to which the atmosphere of the house remains disturbed, then on this day take an earthen lamp in Poorva Phalguni Nakshatra and burn four camphor cakes in it. Now show incense in the whole house with that lamp and later keep it in the temple of your house, do not extinguish it.
If your life partner's attention is no longer on you and love in relationships has become less than before, then on this day after sunset in Poorva Phalguni Nakshatra, chant this mantra of Shukracharya 11 times. The mantra is – Om Dram Drin Draunsa: Shukraya Namah:
If you want to establish your feet in the political or social field, then take an empty pot on this day in Poorva Phalguni Nakshatra, but keep in mind that the pot should be covered with a lid. Now the lid does not fall, for this, with the help of a cloth or thread, tie that lid well to the pot and, while meditating on your Ishta Dev, pour that pot into the running water.
If you want to increase the communication of happiness in life, so that love remains in family relationships, then for this, chant the Mool Mantra of Ketu on this day. The mantra is as follows- 'Om Sram Sreen Sronsa: Ketve Namah:
If you do all the work in your life for the betterment and to ensure auspicious results, you should worship the Dhak or Palash tree on this day. If a tree is available somewhere nearby, water should also be poured into its root. Also, it should be kept in mind that on this day you do not damage the Dhak or Palash tree in any way and avoid using things related to it.
This will give you auspicious results, but if you do not find a Dhak or Palash tree anywhere nearby, then download the photo of the tree and keep it with you and bow down.
If the movement of money in your house has reduced for some time, then to increase the flow of money in your family again, worship Goddess Lakshmi on this day and chant her mantra. The mantra of Mata Mahalakshmi is as follows – rhrmrmlkamallaye prasidprasdrhrmhālālakshmiyanam:
By chanting this mantra on this day, by the grace of the mother, money will start flowing again in your house, but if you face difficulty in reciting this mantra, then you can only chant the mantra "Shri Hrin Shree". Because the monoakshari mantra of Lakshmi is "Shri". Sphatik garland is said to be the best for chanting the mantra of Mahalakshmi. The garland of kamgatte is also said to be excellent, but if you do not have both of these, you can also chant on the rosary of Rudraksha.
If there is a slowdown in your business and you are not able to carry forward your work, then on this day take an earthen pot and fill honey in it, put a lid on it and keep it in the north-west corner of the house and today the whole day Keep it The next day, leave that earthen pot filled with honey at a secluded place praying for the growth of your business.
If you want to increase wealth and material pleasures, then today take a Palash flower as well as a single coconut. If you do not get fresh flowers of Palash, then you can also bring dried flowers of Palash from Pansari. You will get it easily. Now tie that Palash flower and a single coconut in a white cloth and keep it in your vault or the place where you keep money in the house.
If you want to get progress in every area of ​​your life, then on this day gift a white colored cloth to a potter or farmer or one who does any work related to soil. If you are not able to gift clothes, then feed them something made of curd.
If your health is not going well for a few days, then to improve your health or for your good health, make roti of jowar flour and feed it to the cow on this day and take blessings by touching the feet. But if you are not able to make roti from jowar flour, then donate jowar flour or whole jowar grains to any temple.
If you want to keep your married life happy, then on this day buy any two bottles of perfume with good fragrance and donate one of them to a temple and gift the other vial to your spouse.
If you want to increase your happiness and good fortune, then today donate pure desi ghee of cow and a box of camphor to the temple. Also, go to the temple, take out a cup of camphor from that camphor box and burn it with your hands and do the aarti of God.
Shanivar Ke Upay: Do this surefire remedy on Saturday, misfortune will go away and luck will shine
(Disclaimer: The views expressed in this article are those of the author. India TV does not confirm its veracity.)
Latest Lifestyle News