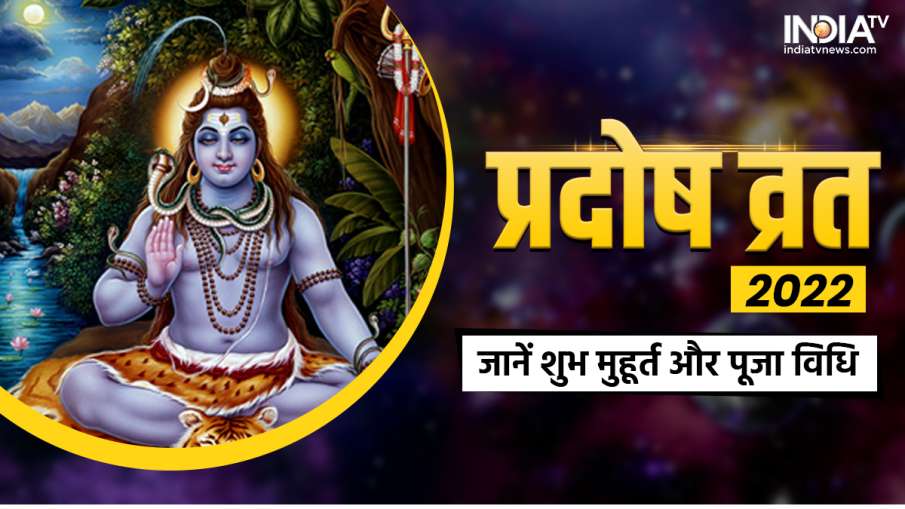 Highlights
Som Pradosh Vrat will be observed on 25 July 2022.
This time Som Pradosh Vrat is very special.
Sawan Pradosh Vrat 2022: July 25 is the Dwadashi date and Monday of Shravan Krishna Paksha. Dwadashi Tithi will last till 4:16 pm on 25th July, after that Trayodashi Tithi will start, which will remain till 6.48 pm on the next day. According to the Hindu calendar, Pradosh fast is observed on the Trayodashi of both Krishna and Shukla Paksha of every month. Out of the seven days of the week on which Pradosh Vrat is observed, the name of that Pradosh is named after that. In such a situation, if July 25 is a Monday, then it will be called Som Pradosh Vrat.
Pradosh Kaal is very important in any Pradosh fast. The first prahar of the night in Trayodashi Tithi, that is, the evening time, is called Pradosh Kaal. This year's Som Pradosh fast is very special because with the second Monday of Sawan, many auspicious yogas are being formed. It is said that by consecrating Lord Shiva in this auspicious combination, it is very fruitful for those who desire child happiness. In such a situation, let us know the auspicious time, worship method and importance of Som Pradosh fast.
When is Som Pradosh Vrat 2022?
This time Som Pradosh Vrat will be celebrated on 25 July 2022.
Auspicious time for Pradosh fast
Trayodashi date of Krishna Paksha of Sawan month starts– July 25 from 04:15 pm

Trayodashi date of Krishna Paksha of Sawan month ends– July 26 till 06.04 in the evening

auspicious time of worship– From 07:17 in the evening of July 25 to 09.21 in the night

time period– Begins approximately 45 minutes before sunset and is valid until 45 minutes later.
Pradosh Vrat Puja Method
On the day of Soma Pradosh fast, after taking bath etc., first of all, Lord Shiva should be anointed with Panchamrit i.e. milk, ghee, Gangajal, honey and curd. After that in the evening, i.e. at the time of Pradosh, one should again worship Lord Shiva in the same way. In this way a person who worships Lord Shiva etc. and observes a fast of Pradosh, gets rid of all the troubles and attains virtue and he attains the best world. It is said that the person who visits the idol of Shiva with an offering in the first prahar of the night of Trayodashi, gets immense benefits in life.
Significance of Sawan Pradosh Vrat
The month of Sawan is very dear to Shiva. According to the beliefs, in the month of Sawan, Goddess Parvati attained Lord Shiva by doing rigorous penance. That is why it is said that the devotees who worship Lord Shiva with the law and perform Jalabhishek by observing the fast of Pradosh in the month of Sawan, Shiva is pleased with them and fulfills their every wish.
Disclaimer: The information given here is based on religious beliefs and folk beliefs. There is no scientific evidence for this. India TV does not give proof of the veracity of a single thing.
read this also –
Sawan 2022: Three auspicious coincidences are being made on the second Monday of Sawan, know the auspicious time and method of worship
Sawan Somvar 2022: Consume these special drinks during the Monday fast of Sawan, you will feel energy throughout the day
Sawan 2022: There are countless benefits of reading Shiv Chalisa, Shiva's aarti, can be proven by reading 40 times, read here
Sawan 2022: Do not eat these things even by forgetting in Sawan, otherwise there may be misfortune
Latest Lifestyle News