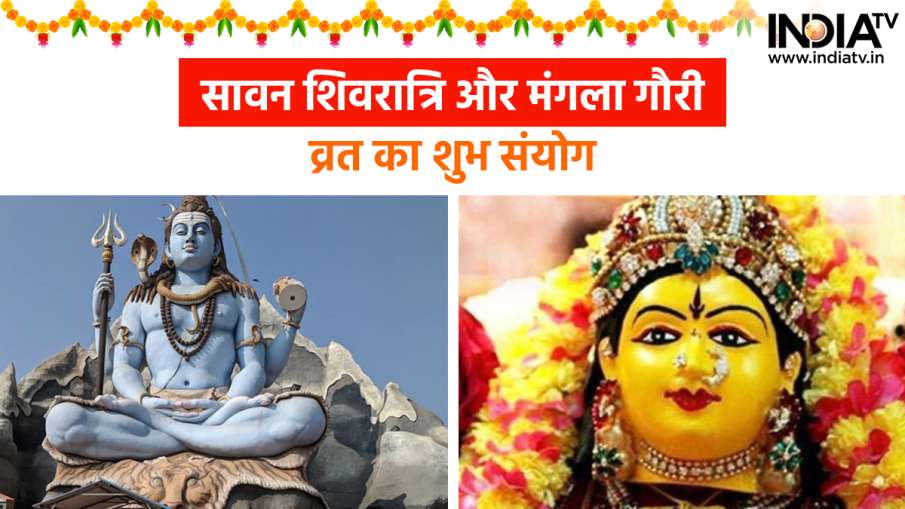 Highlights
Sawan Shivratri is on 26th July
Auspicious time for worship is from 06:30 pm to 07:30 pm
Perform Jalabhishek on 26 and 27 July
Sawan Shivratri 2022: The month of Sawan is dedicated to Lord Shiva. Lord Shiva can be appeased by worshiping him on any day in Sawan. According to the Hindu calendar, Shivaratri is observed on the Chaturdashi of every month. This year Shivratri is falling on 26th July i.e. tomorrow in the month of Sawan. Also, due to Sawan Shivrati being on Tuesday, Mangala Gauri fast is also being observed on that day, due to which an auspicious coincidence is being made. Let us tell you how Lord Shiva is worshiped on the day of Sawan Shivratri.
Auspicious coincidence of Sawan Shivratri and Mangala-Gauri on the same day
Tomorrow you have a very golden opportunity to please Mother Parvati with Lord Shiva. July 26 means that tomorrow Lord Shiva and Mother Parvati can be worshiped together. Actually, this year, in the month of Sawan, Sawan Shivratri and Mangala-Gauri fast are falling on the same day i.e. tomorrow. Mangala-Gauri Vrat is observed on all Tuesdays of the month of Sawan. Suhagin women keep the fast of Mangala Gauri. Such a coincidence has happened after years. Mangala-Gauri Vrat is observed to please Goddess Parvati along with Lord Shiva.
Guru Vakri Gochar: Jupiter is going to move in reverse, bad time for Libra, while silver of these 3 zodiac signs
savan shivratri auspicious time
The best time for worshiping Sawan Shivratri would be from 06:30 to 07:30 in the evening. Also, this month's Shivratri will start from 06:45 tomorrow evening till 09:10 pm on 27th July, so Lord Shiva's Jalabhishek can be done on both 26th and 27th July. According to Hindu religion, worshiping all the four Prahars on the day of Shivaratri gives Purushartha, Dharma, Artha, Kama and Moksha.
Worship method of Sawan Shivratri
To please Lord Shiva, he should be duly worshipped. On the day of Sawan Shivratri, take a bath in the morning and wear clean clothes. Tomorrow is also Mangala Gauri fast, so worship Lord Shiva and Mother Parvati. Also, after performing Jalabhishek in Shivling, offer milk, curd, honey, sugar on it. After that, now offer flowers, garlands, belpatra, dhatura, Shami, Aak flowers to Lord Shiva. Offer flowers to Goddess Parvati as well. Offer sweets to Lord Shiva and Mother Parvati. After this, do aarti by lighting incense-lamps. Now recite the Tandava Stotra of Lord Shiva. By doing this Lord Shiva is extremely pleased with his devotees and bestows them with the desired blessings.
Vastu for Kitchen: Do not keep salt open in the kitchen even after forgetting, leaving dirty utensils in the sink also causes Vastu defects
Latest Lifestyle News