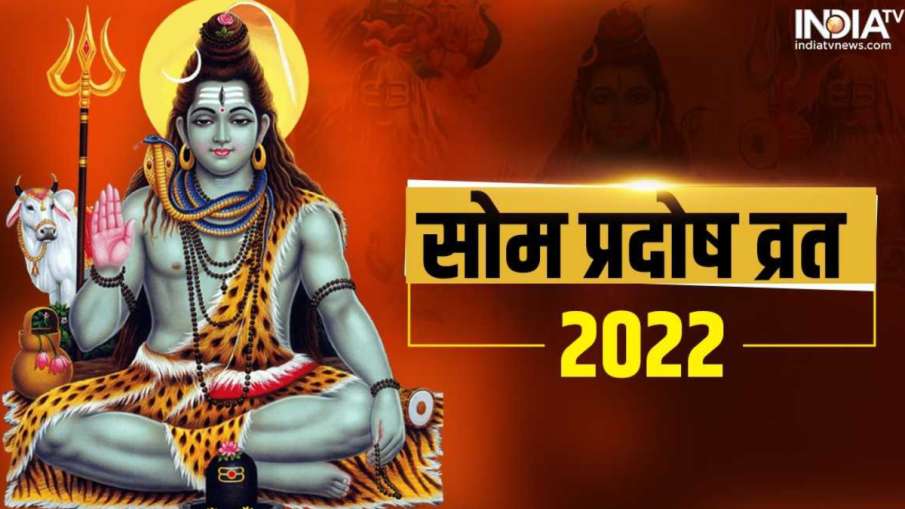 Som Pradosh Vrat 2022: Pradosh Vrat is observed on Trayodashi Tithi of both Krishna and Shukla Paksha of every month. Out of the seven days of the week, the day on which Pradosh Vrat is observed is named after that Pradosh. This time Pradosh Vrat is falling on Monday, July 11, so Pradosh Vrat falling on Monday is called Som Pradosh Vrat. Pradosh Kaal is very important in any Pradosh fast. Lord Shankar should be worshiped on the day of Pradosh fast. It is said that on this day a person who worships Lord Shankar and observes Pradosh Vrat, gets rid of all sinful deeds and attains virtue and attains the perfect world.
On the other hand, according to astrology, this time 4 auspicious coincidences are going to happen on the day of Som Pradosh fast. In such a situation, let's know from Acharya Indu Prakash, which auspicious yogas are going to be formed on the day of Ashadha Som Pradosh Vrat, as well as know the worship method, auspicious time and mantra of Som Pradosh Vrat.
These 4 auspicious coincidences will be made on the day of Som Pradosh fast
This time 4 auspicious coincidences are going to happen on the day of Som Pradosh fast. Soma Pradosh Vrat will start with Brahma Yoga and Sarvartha Siddhi Yoga. Along with this, the coincidence of Shukla Yoga is also being made on this day from sunrise to 9 pm. Apart from this, Ravi Yoga will also be there from 5.15 am to 5:32 am. In such a situation, Ravi Yoga, Brahma Yoga, Shukla Yoga and Sarvartha Siddhi Yoga are being formed simultaneously in Soma Pradosh fast. It is said that worship of Lord Shiva has special significance in these auspicious yogas.
Auspicious time for Pradosh fast
Start of auspicious time of Shiva Puja: from 07.22 pm

shiv puja closing time: 09:24 pm
Som Pradosh Vrat Puja Method
In Som Pradosh Vrat, Shiva is worshiped 45 minutes before sunset and 45 minutes after sunset. On this day, after taking a bath in the morning, wear all clean clothes. Wearing light red or pink colored clothes is considered auspicious. After this, go to the temple and worship the Shivling with belpatra, akshat, lamp, incense, Gangajal, water, flowers, sweets etc. After this recite Pradosh Vrat Katha. Also recite Shiv Chalisa. Chanting the Mahamrityunjaya Mantra on this day is also considered auspicious. Keep on chanting 'Om Namah Shivaya' in your mind on Pradosh Tithi fasting.
On the day of Pradosh fast, chant the mantra of this Mahamrityunjay of Lord Shiva.
Om Tryambakam Yajamahe Sugandhim Pushti Vardhanam.
Urvarukamiv Bandhanat Mriturmukshiyya Mamratat.|
In this way a person who worships Lord Shiva etc. and observes a fast of Pradosh, freed from all bondages, attains all kinds of happiness and prosperity and he attains the best world.
Disclaimer – This article is based on general public information and proverbs. India TV does not confirm its veracity.
read this also –
Budh Gochar 2022 in July: This month, Mercury will change its zodiac three times, these zodiac signs will benefit
Raksha Bandhan 2022: On the day of Rakshabandhan, do not tie Rakhi to your brother at this time, otherwise it may be a bad omen.
Chaturmas 2022: Chaturmas is starting from July 10, these 3 zodiac signs will have to be special for four months