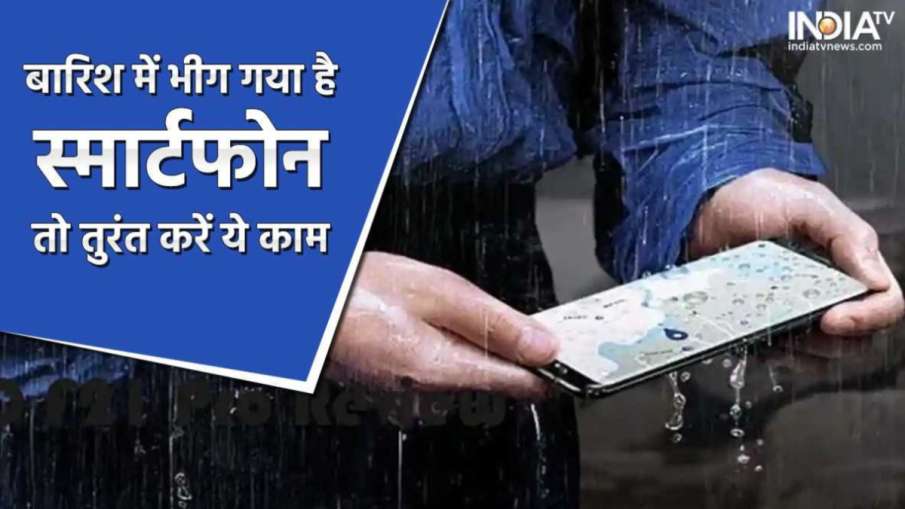 Tips to Rescue a Wet Smartphone: Monsoon has arrived and it is raining in almost all parts of the country. If you have gone out somewhere during the rainy season and suddenly it starts raining, then the chances of getting the smartphone wet during this time increases a lot. In such a situation, most people keep a polythene bag with them to protect their smartphone from getting wet so that they can get some protection. But still sometimes it becomes difficult to save it and water enters in it. If a similar situation happens to you during the rainy season and you have to fix your phone again, then today we will tell you some easy ways by which you can fix your soaked phone. Let's know.
Whenever you are going out of the house during the rainy season, first of all keep the mobile in a waterproof pouch. You will find this waterproof pouch online. If you want, you can also use plastic sheets or simple polythene. By doing this, rain water will not enter your phone.

If the phone is wet or water has entered inside it, then first of all turn off the phone. Because if the phone has entered the water, then it can be dangerous to operate it during this time. If you operate the phone wet or press any button, it may cause a short circuit. Therefore, after turning off the phone, take out its battery, cover, etc.

To fix a soaked phone, put the smartphone in a box of rice and leave it for a few hours. By doing this the water stored in the phone dries up. This is an easy and effective solution. For this, turn off the phone and keep it between the rice in the rice box.

Put silica gels in a polythene, then put your soaked mobile in it and keep it for a few hours. By doing this the water stored in your mobile will dry up. Let us tell you that silica gels are small tablets which are sealed in pouches and kept in the boxes of shoes, bottles, mobiles and other electronic items.

You can also use tissue paper to dry your phone. For this, take out all the parts of the mobile like, SIM, headphone, battery, cover etc. and wrap it in tissue paper. When the tissue paper becomes wet, immediately change it and keep it in another tissue paper. By doing this, the water stored inside the phone will be absorbed by the tissue paper. But let us tell you that do not turn on your phone for several hours or else the phone may get damaged.
don't do this at all
Never try to dry the phone with the help of a dryer or heater. This can damage the circuit of the phone.

If the phone is wet, do not use headphones and USB during that time.

Do not press the buttons of a wet mobile again and again as this will cause water to go inside and make the phone worse.

Do not try to dry the mobile by rubbing it with a cloth.

Never try to get water out of the phone by jerking it.
Disclaimer: The information given here is based on religious beliefs and folk beliefs. There is no scientific evidence for this. , India TV does not give proof of the veracity of a single thing.
Also read –
Sawan 2022: In this way, Mahadev will be pleased in this way, you will get the desired boon
Sawan 2022: The month of Sawan is starting from 14th July, during this time do not do this work at all, Shiva may be angry
Vastu Shastra: By placing a mirror at these places of the house, Vastu defects are removed, just take care of these things