Urfi Javed Wear Ranveer Singh Photo Tshirt: Recently, in Karan Johar's show 'Koffee with Karan Season 7', Bollywood actor Ranveer praised the alias Javed. Ranveer, one of the most stylish stars in the industry, praised Urfi's fashion and called him a fashion icon. She was not happy to hear her praise from Ranveer and thanked him. Now Urfi has found a new way to express his love for Ranveer. You all know how expert Urfi is in fashion, so this time the actress has experimented with Ranveer Singh's photo.
The actress has shared a photo on her Instagram in which she is seen drinking tea. Urfi is looking very simple in this photo. The actress is wearing a black t-shirt and white shorts with it. Now you must be thinking that what is different in this? So it is different that Ranveer Singh's photo is printed on Urfi's t-shirt, in which his machoman body is visible. This photo of Ranveer Singh printed on T-shirt is enough to tell how much Urfi admires Deepika Padukone's husband. Sharing this photo, Urfi wrote 'After Koffee with Karan…D with Ranveer'. See photo for yourself.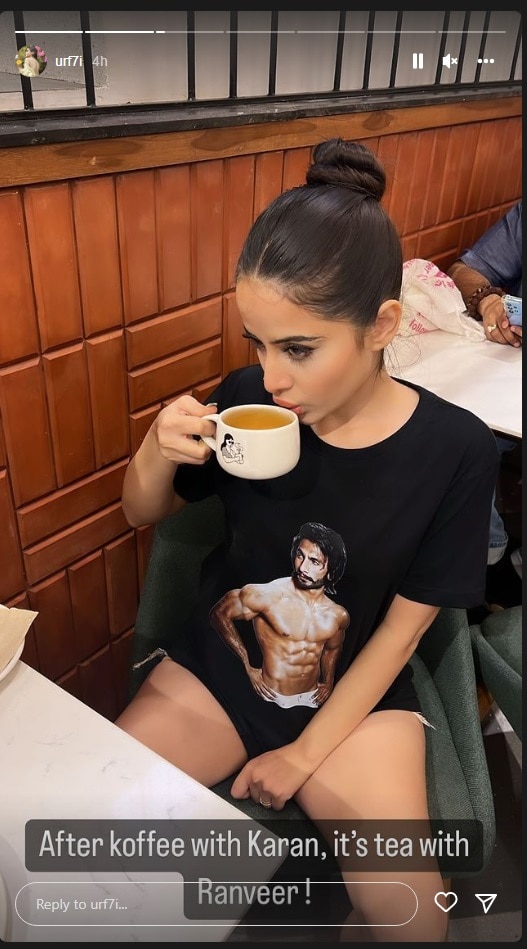 What did Ranveer Singh say?
Actually, Ranveer Singh recently reached Karan Johar's show 'Koffee With Karan 7' with Alia Bhatt along with Alia Bhatt. During the Rapid Fire segment here, when Karan asked Ranveer, 'Whose nightmare would it be to repeat a dress early?' On this, Ranveer Singh immediately took the name of Urfi Javed. Ranveer said, 'Urfi is a fashion icon'. After which while sharing the screenshot of Ranveer's video, Urfi said, 'I don't know how to react to this! But Ranveer Singh you are very sweet'.

Lalit Modi's son Ruchir Modi's statement on dating Sushmita Sen, said- I am at all…!